Welcome to the Clearpath Herbals Medicine Garden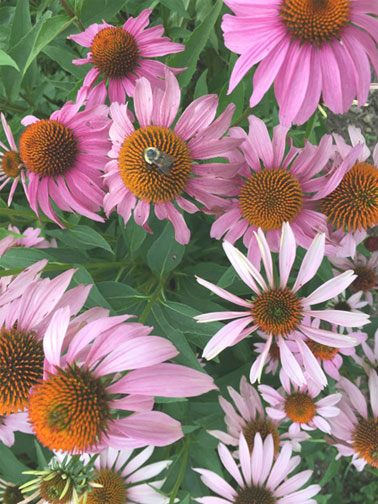 Clearpath Herbals Medicine Garden
Cultivating plants used for medicine is one of the areas of herbalism that is gaining popularity
Clearpath Herbals is truly a community-supported endeavor.
Lacking a home campus, Chris Marano was looking for a place to grow medicinal herb gardens. It was a burning personal desire as well as a strong student request. By a series of fortuitous circumstances, the owners of Brooks Bend Farm in Montague, MA — Al Miller and Suzanne Webber — invited Chris to create medicine gardens in their fields, next to their vegetable gardens and grazing sheep. That was in 2007.
In the years that have followed, Clearpath Medicine Gardens has evolved and morphed, becoming what it is today: a hidden jewel of abundant medicine, beauty, sanctuary, healing and community. A community of people who love to garden and learn about plants used for medicine, a community of plants — medicinal perennials, biennials and annuals, native herbs, naturalized herbs, Chinese herbs, Indian herbs, and the larger community where plants, people, and the other inhabitants of Clearpath Herbals Medicine gardens come together.
The gardens are, and always will be, a work in progress. The plants let us know if they are happy or not, and we are always experimenting with new arrivals using environmentally sound and sustainable methods. And, along with a good number of wildcrafted herbs, the plant medicines from our gardens make up a large part of the Clearpath Herbals' apothecary.
---
---
Clearpath Gardens could not exist without the generous enthusiasm of students and volunteers… and it shows! It is a favorite place for many lovers of herbal medicine with its abundance of beauty and medicine, but it also attracts people because of the camaraderie shared — volunteers enjoying company and ideas working side by side with Chris and the Clearpath Herbals staff and students while taking care of the ongoing needs of a large garden.
Every Monday from May through October is Garden Work Day. Throughout the growing season, Chris Marano, staff and long-term students are at the gardens working all day, answering questions, and giving garden tours. Our garden manager leads the crew in morning exercise and explains the projects for the day, and makes the work day enjoyable and educational.  
It is not uncommon to see a dozen people or more working throughout the day. People come and go as they please, and are welcome to stay as long and work as hard as they want.  We always devote a large bed to garden vegetables, so fresh greens are often available for lunch as well as vegetables for volunteers to take home at the end of the work day.
The love shown the plants in the Clearpath Medicine Gardens is apparent. The plants respond with a vibrancy and tranquility that leaves everyone who visits with a happy, contented smile; and as most of our steady, satisfied clients tell us, the plants fulfill their therapeutic potential and then some, providing vital, powerful, beneficent medicine for body, mind, heart and spirit. 
(For more information, See Services and Education pages.)