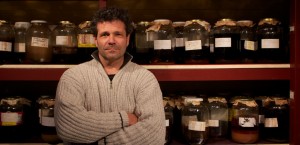 Chris Marano, RH (AHG), MA, BS – Master Herbalist – Clearpath School of Herbal Medicine
"The body has an innate ability to maintain, balance, heal and correct itself. As an herbalist, I educate people, more so than treat conditions. I offer lifestyle and nutritional suggestions as well as custom-blended herbal preparations to help facilitate an individual's natural healing processes." 
A therapeutic herbalist since 1993, Chris draws upon his skills, experience and studies in Chinese, Native American, and Western herbal health traditions to offer Wellness Consultations for a wide range of health issues.
Here are more pieces of Chris' training and experience:
Graduate of Herbal Therapeutics School of Botanic Medicine

MA degrees in Science Education from Columbia Teachers College

BS degree in Pre-Medicine and Chinese Philosophy from Columbia University

Founder of Clearpath Herbals, offering Wellness consultations and high-quality herbal preparations

35 Years of study , teaching, and published writing of Chinese Buddhism, Meditation, and Philosophy

25 Years study and practice of Cherokee and Annishnabe Medicine traditions

Founder of Clearpath School of Herbal Medicine, dedicated to the teaching of Herbal Medicine, Earth-based wisdom and sustainability.

Teacher of herbalism at the University of Massachusetts Amherst.

Registered Herbalist with the American Herbalist Guild (AHG)
See Chris Marano's full bio here. 
——————————————————————————————————————————–
Laura Torraco – Herbalist, Apothecary & Garden Manager – Clearpath School of Herbal Medicine
Laura has been training formally in herbalism since 2013 when she began attending the Urban Moonshine online herbalism program. This thorough program focused heavily on the scientific side of working with herbs. It also had in-depth coursework on herbal preparations. 
In June 2015, Laura became the Garden Manager and Apothecary Manager for Clearpath School of Herbal Medicine. In this role, Laura plans, manages, and leads work days in the Clearpath Gardens, where many herbal medicines are grown and harvested for use with clients and in formulations. As Apothecary Manager, Laura prepares tinctures, concocts formulas, and fills custom orders. She has also helped clients in the free herbal clinic at Acadia Herbals in Northampton.
Here is a look at more of Laura's relevant training and experience:
Has taught at the International Herbal Symposium and Herb Stalk

Has led preparations classes for Clearpath School of Herbal Medicine

Owner and operate of a perennial gardens design, installation, and maintenance operation in Western Massachusetts. She focuses on ecological design work of medicinal gardens for both humans and the land. 

Operated a self-run farm and off-grid homestead 

Herbal medicine preparations utilizing both folkloric and scientific methods, including the triune formulation.

Clinical experience working with clients.

Dshea/GMP/SOP.

ServeSafe Certification.

Embody Yoga 200hr YTT

Compassion, deep respect, love for the Earth and ecology
---
Angelique Britt is a registered nurse and clinical herbalist living in Franklin County.
She began her formal herbal study with Chris Marano of Clearpath Herbals in 2016 and will be pursuing her Masters of Acupuncture and Oriental Medicine with the New England School of Acupuncture beginning fall 2021. Angelique believes strongly in integrative healthcare and that true well-being is found through balancing the mind, the body and the spirit. Her deep understanding of holistic healthcare shines in her co-creating thoughtful and informed wellness plans with her clients. When not working in nursing or seeing clients, she is a voracious reader, enjoys working the soil of her own gardens as well as teaching her children all about our common and abundant plant allies.